Currency used is in RAWR Points!
You can obtain RAWR Points by participating in stream events, daily speed paints, and other misc ways on discord!
You can also convert real muns for RAWR Points! $1 usd = 10 RAWR Points!
RAWR! Welcome to the RAWRzone!  We are a newly opened hostess club in the outskirts of New Celesti!
We have the best hostess on Lumin that will drink with you and perhaps something extra provided you have the coin!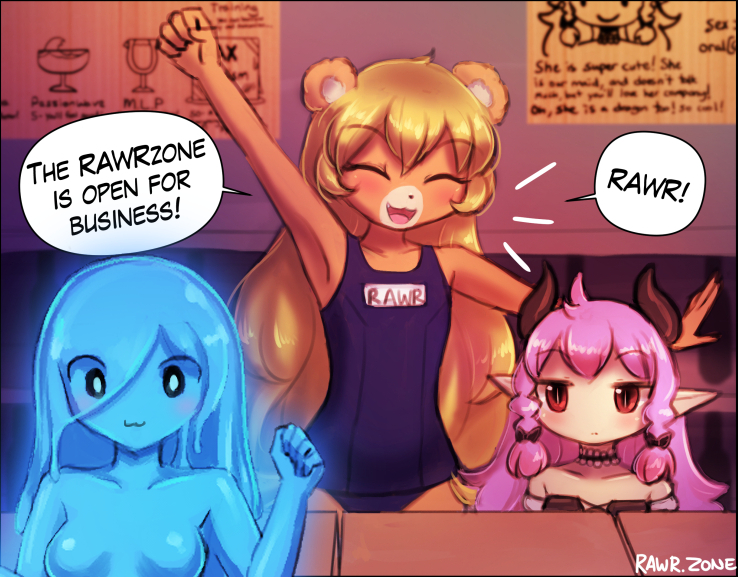 If you are interested in The RAWRzone Experience please make sure you are a subscriber on my fanbox or subscribestar in at least the RAWRGuard slot and message me on discord lumineko #0001!  
Select from one of the hostess along with any number of drinks (and optional food) and message me on discord!
I typically first announce the seating where people pick the hostess they want and where they would like to sit at the RAWRzone, and scheduling a day/time for an RP session in the next week! 
During the RP session I will walk your characters through the RAWRzone where they can talk a little with the hostess along with some exploration time! 
The RP will be loosely based on D&D 5e, and will require a character sheet be made for your character!
There is an "hour 1" seating phase which the character is expected to sit and talk with their hostess, and an "hour 2" phase (If ordered) where the character(s) and hostess will go to a private room for some NSFW time! For a listing of the private rooms, look further down below!
The RP will last 2 hours real time with 1 hour passing in the RAWRzone so please keep responses brief so we can get you through!
This project is a work in progress living world so it will change and grow as the days progress! 
New characters, drinks, and world changes will happen as this project progresses!